Additional chapters will be added weekly
The Book of Hedy: Scenes From A Life
by Mark Chmiel with Hedy Epstein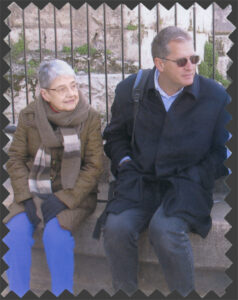 Epigraphs
Indeed, the major activity of the prophets was interference, remonstrating about wrongs inflicted on other people, meddling in affairs which were seemingly neither their concern nor their responsibility. A prudent man is he who minds his own business, staying away from questions which do not involve his own interests, particularly when not authorized to step in—and prophets were given no mandate by the widows and orphans to plead their cause. The prophet is a person who is not tolerant of wrongs done to others, who resents other people's injuries. He even calls upon others to be the champions of the poor.
–Abraham Joshua Heschel
If we don't try to make a difference, if we don't speak up, if we don't try to right the wrong that we see, we become complicit. I don't want to be guilty of not trying my best to make a difference.
–Hedy Epstein
The Nazis Come To Power
I was eight years old when Hitler came to power on 30 January 1933. I knew that my parents and other family members had hoped that this wouldn't happen. They were hoping Paul von Hindenberg would step in and that the Nazis wouldn't remain in power for very long. (When Hindenberg died in 1935, I sobbed because I thought he was a good man.) Although I listened in on my family's conversations, I was not able to understand the seriousness and lurking danger of this turn of events.
But that would soon change. On Saturday 1 April, there was a boycott of Jewish shops and I now felt there was a concrete threat to me, my family and all other Jews. On that day in Kippenheim, the Brown Shirts of the Nazi S.A. barred German Christians from entering the shops of Jewish owners, including my father's dry goods business. When I asked my parents why this was happening, they tried to reassure me by saying not to worry and that the boycott was for that day only. "
But the growing anti-Semitism clearly worried my parents. And after Hitler's election as chancellor, they finally gave up all hope of a positive change and immediately began to consider leaving Germany. Getting out of Germany was one thing; but being received into another country was very difficult. Like thousands of other Jews, my parents were increasingly more desperate to find a relative or friend in a foreign country who would be willing to sponsor them as immigrants.
Given my age, I still did not realize the depth of the intimidation and violence that characterized the Nazis. I listened to Hitler screaming on the radio with his hateful rants and bluster. But I could never really understand what he was saying. My parents tried to protect me from grasping the seriousness of Hitler's invective, but I eventually heard and learned things that made me realize that the situation was deteriorating and becoming frightening. For example, I heard the phrase "concentration camp," and I just knew it was a bad place.
The Daily Mail
It was hard for me to grasp the import of politics writ large. However, I would soon come face to face with discrimination on a regular basis. Whereas I once enjoyed walking to the post office to pick up our mail, it soon became a repetitive nightmare. One of my classmates' father worked as the postmaster and he came dressed in a Nazi uniform. He began to refuse me the use of the office step-ladder, which made it very difficult to reach the slot where the mail was. To make me work even harder, he pushed the mail as far back in the compartment as possible. One day he chased me out of the building with his dog. I ran to the nearby home of a Jewish family, where I slowly regained my composure.
I complained about this to my parents, "I'm not tall enough, I can't get it, and he's putting it all the way in the back." My father said, "You have to figure out a way to deal with this." He wasn't going to relieve me of that responsibility.
My solution: Each time I went, I brought a little footstool.
At the time, I thought my father should make life easy for me, which he wasn't doing, and I resented it. Instead, he saw that I had this obstacle, and I would have to find a way to deal with it. He wasn't going to tell me how to do it.
Later, when I was separated from my parents, I finally understood what he had been trying to teach me then, and I had to agree with him, because many of these everyday struggles helped me later to survive.
Curiosity
Across from our family business, there was a glass case attached to a building where the Nazi paper, Der Stürmer was on display. My parents had told me never to go over there and look at that.
So what do I do? I go over there and look at it.
There were these horrible cartoons of Jews with long, hook-noses, and I had never seen anyone that looked like that. It made me very angry to see these depictions, and I suppose that was my punishment for disobeying my parents.
How Grandpa Came To Stay With Us
My mother's father, Heinrich Eichen. lived in Hanau which is close to Frankfurt. One day he was walking on the sidewalk and a Nazi came up to him and said, "Get off the sidewalk. Jews are not allowed to walk here." So my grandfather started to walk on the street. The Nazi then said, "Jews are not allowed to walk on the street, either. You're under arrest." And he was taken to a jail, where he was later told, "If you promise to leave your home, your business, leave the town and never came back to this town, we will release you."
He made that promise so he could get out. He then came to stay with us and spent several months with us. Then when he felt that it was too much for us, he left to move in with his son and daughter-in-law who lived in Frankfurt. He lived with them for a while, and then moved on to a Jewish old-age home, before he finally came back to us.
"At first, I was very happy that my grandfather was staying with us until I understood why he was staying with us and why he was so very unhappy."
Preparing to Leave Germany
As far back as I can remember, every Sunday my father and I went for walks, unless we as a family went on an all-day hike. We always started and ended our walk with the same song which went: "Sing song and cling clang/A lass goes out into the world." On these walks, my father always gave me a topic to talk about the following Sunday so that I would have all week to read up, or ask questions, or think about it, and we did this religiously. And I always brought home a bouquet of wildflowers for my mother.
Two Sundays before I left on the Kindertransport, my father gave me the topic of the immortality of the June bugs. Somehow I intuitively knew my father wanted to know some information that had to do with sex. I thought if that's what he wanted to know he should find out for himself instead of asking me who knew very little. Somehow I had the feeling that that's what this was about.
My parents had painted this beautiful picture of my leaving Germany to make leaving easier for me. When I went on this Kindertransport, I'd be able to go back to school because I hadn't been able to go to school since I got kicked out on November 10 1938 because I was Jewish. I'd be making new friends, learning a new language, and all these wonderful things were going to happen to me after I arrived in England.
On the last Sunday before my departure, we sang the usual "sing sang and cling clang," and, as expected, my father very quickly came to the point: "Have you thought about the topic?"
And very stubbornly, I said, "No."
"Did you think about it, did you read something about it?
"No."
A bit frustrated, my father asked me, "Well, what does immortality mean?"
"It means whatever you're talking about, the species, doesn't die out."
"And why?" he asked.
"Because they lay eggs and have babies."
"How can the babies survive when they are so small, who takes care of them?"
Apparently, I knew something about the June bugs. From where I knew this, I don't remember, but they buried the eggs deep in the ground and this is how they grew and became June bugs.
My father sort of nodded, okay. Then we walked for quite a while without either of us saying anything. As we got close to where we lived, I began to sing the song and my father did not join in. I was singing alone.
Leaving
We left Kippenheim for Frankfurt where I was to join the Kindertransport. My mother's younger brother had just gotten married, and he and his bride lived near there and we visited them so that I could say goodbye to them. My Uncle said he wanted to buy me a going-away present, so we went shopping and I bought this beautiful suit, I remember it was yellow.
And then the 18th of May, the day that I was leaving, finally arrived. Early in the morning my parents took me to the railroad station in Frankfurt so that I could join the Kindertransport and there were approximately 500 children, the youngest were twins six months old, the oldest was 17 and I was 14 and ½.
In my mind's eye, I still see how the parents of those twins were reaching, handing over those two babies, six months old, to somebody on the train and all I could see were two hands and arms taking those babies because it was very close to where I was. I also heard the parents of these babies saying to whomever on the train, "Please take good care of our babies."
My parents, like all parents, gave me the last minute admonitions to be good, to be honest, and they were still smiling while they were standing on the platform.
There was a whistle and the train slowly moved out of the station. And the noise that the train makes, as it moves, the wheels seemed like they were saying to me: "You're going away, you're going away, you're going away."
My parents ran along the moving train till they came to the end of the platform and tears were streaming down their faces, and I was looking out and they became smaller and smaller and finally they were just two dots and then they were gone.
Many years later, I finally realized that by sending me away they literally gave me life a second time.
Staying in Touch After the War Begins
Just days before the war broke out there was a frantic exchange of letters between my parents and  me. And then it happened, September 3, 1939, I listen to the radio, England declares war on Germany. In a second my hopes are dashed of soon being reunited with my parents. What will happen to them? When will I hear from them again? When will we see each other again? What does it mean to be at war? The question no sooner asked, I hear the wailing of the first air raid warning. Gas mask in hand, issued just days before, ready to put it on at a moment's notice, I crouch underneath the dining room table with Janice and David. The all clear is sounded minutes later, it was a false alarm.
My thoughts go back in time. I am about four years old, sitting on my Father's lap in our living room, the big bookcase behind us. Dante's bust, atop the bookcase, looks down on us. As he often did, my Father teaches me a proverb. This time it is a Latin proverb. "Non scholae sed vitae discimus." Not in school, but in life we learn. The philosophical meaning is still beyond my understanding then. But now, in an instant, I understand its meaning. Now, I also understand how my parents early on started to prepare me for life, to act and think independently by asking me to perform certain tasks and solving problems. Then I was often angry and resentful of their expectations. No other child I knew had to do what was expected of me. [For instance, when I was not yet tall enough to reach our post office box, I had to pick up the mail. I solved the problem by bringing along a footstool.] Fearing that further contact with my parents would not be possible until war's end, I finally understood that these early learned life skills were going to be the tools I would now be able to call on.
Once the war broke out it was no longer possible to correspond directly with my parents. However, we found ways to stay in touch. My parents wrote to me and sent the letter to people we knew in neutral Switzerland. They then placed the letter in a new envelope, addressed to me and mailed it to me in England. I did the same in reverse. It took a long time for these letters to reach their destinations. Since most of these letters went through censorship,  we had to be careful not to disclose where these letters originated or their destination.
Last Letter
I no longer have my Father's last letter of 9 August 1942, but clearly remember him telling me that he will be deported to an unknown destination and that it may be a long time before we will hear from each other again. I do, however, have my Mother's last tear-stained letter, dated 1 September 1942, in which she writes as follows:
Camp de Rivesaltes September 1, 1942
My dear good Hedi Child,
It is very difficult for me to write to you today, but there is no use, it has to be done. Your last letter, dated June 20, still reached me in Gurs. Since I left there, and that was on July 3, I have not heard any more from you, and hope that you are well, which I can say for myself also as far as my health is concerned. The last few weeks have been very upsetting for all of us, but especially for me. Your dear Papa was deported from Camp les Milles on August 12, and unfortunately I do not know where to he was sent. The last mail I had from him was dated August 9, in which he expressed the hope that somewhere en route we would meet, because a transport from here left at the same time for an unknown destination. I remained here because dear Papa lately was a prestataire (forced laborer).
But now there is another transport leaving from here, and this time I am leaving on it. My only hope is that I will still meet dear Papa somewhere, and then we will carry our lot, no matter how difficult it may be, with dignity and courage. My dear good child, I will try in every way possible to remain in contact with you, but it will probably be a long time before we hear from each other again. I am asking you to please write to Manfred and Max about this. I am just not able to write another letter to the dear uncles. Give them my heartfelt greetings. I will never forget what they have done for us poor ones. I also want to thank you, my dear child, with all my heart for all that you have done for us lately. Continue to be always good & honest, carry your head high and never lose your courage. Don't forget your dear parents. We shall continue to hope that one day we will see each other again, even if it takes a long time. Please give my regards also to Anna and Bea.
My dear good child, let me greet you heartily. I will never forget you and deeply love you
Mutti
Hatred/1
Before starting my work for the U.S. Civil Censorship Division in Germany, I was to spend two weeks in training in Poissy, located just outside Paris. I was joined by other young German and Austrian refugees, who had spent the war years in England. We were hired primarily because of our knowledge of the German language.
The first time the train stopped in Germany, we saw raggedy children, all ages, on the platform, begging for candy, cookies, and cigarettes. Some of the people in my carriage, all of them like me, Jewish refugees from Nazi oppression, who lived in England during the war, gave the children whatever they had with them. Enraged, I asked: "How can you do that? These are Nazis!" Some of these so-called Nazis were perhaps only four or five-years old. Until that moment, I was totally unaware of my feelings, my deep hatred for Germans, even for little innocent children.
This hatred, across the board, for all Germans, stayed with me all too long. Germany was in very difficult straits, thus the begging by children was an on-going occurrence for quite a long time. Eventually, I was able to give the children candy or cookies, but they had to eat what I gave them, right in front of me because I could not be sure who was at home, maybe a Nazi. Cigarettes, which they also asked for, I refused to give them, telling them they were still too young to smoke. Cigarettes, at that time, had greater barter value than money.
These unabated feelings of hatred presented a problem. What about my plans to live in Germany? How could I live in a country, where I hated everyone?